The 72nd annual Golden Globes will air this Sunday, January 11. But how much do we really know about them? What is the HFPA? And how heavy is that award? Here are the Cliff's Notes to one of awards season's most enjoyable nights.
The Backstory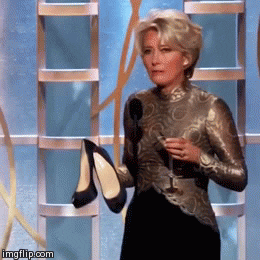 You can thank the Hollywood Foreign Press Association (HFPA) for dreaming up your beloved Golden Globe awards. The organization was started in 1943 by eight L.A.-based overseas journalists, all of whom were passionate about judging Hollywood productions for foreign audiences. The first awards presentation took place at 20th Century Fox in January of 1944. Only five awards were given out: Best Picture, Best Actor in a Leading Role, Best Actress in a Leading Roll, Best Performance by an Actor in a Supporting Role in a Motion Picture, and Best Performance by an Actress in a Supporting Role in a Motion Picture (today, there are 25 awards). Back in the day, winners received an award scroll in lieu of a statuette, which is both hilarious and awesome. Despite its modest roots, the informal atmosphere at the Golden Globes has allowed it to become one of the bawdier awards shows on TV (Emma Thompson's martini-infused rant last year has nothing on the telecast from 1980, during which Bette Midler simulated oral sex with her award). Which brings us to…
The Literal Golden Globe Award
The year after the first ceremony, a contest was held to find a design for a trophy statuette. It was Marina Cisternas (president of the HFPA from 1945-1946) who came up with the winning concept: a golden globe wrapped in a filmstrip that sits atop a pedestal. The statuettes weigh five and a half pounds and are 10.75 inches tall. The globe is, surprisingly, gold (plated, that is).
Who Votes on This Stuff?
The 87 members of the HFPA—who have a combined readership of 250 million people—get that honor. Up until 1958 they got to hand out the awards, too, until some rabble-rouser named Frank Sinatra (along with his pals Dean Martin and Sammy Davis, Jr.) took over the telecast with booze and cigarettes in hand. Celebrities have made up the presenter pool ever since.
Considering When They Started, Shouldn't This be the 73rdTelecast?
Well aren't we perceptive: the ceremony was cancelled once in its history due to the 2007-2008 writers' strike.